Al cierre de 2021 Ecopetrol y su GEE reportan un total de 54.5 GWh- año de energía solar asociado en un 98% a las operaciones de Granja Solar Castilla, y Granja Solar San Fernando (CENIT) y 2% en operaciones en Pozos Colorados y Esenttia.

At the end of 2021, Ecopetrol and its ESG report a total of 54.5 GWh/year of solar energy, 98% of which is associated with the operations of Granja Solar Castilla and Granja Solar San Fernando (CENIT) and 2% with operations at Pozos Colorados and Esenttia.
Incorporación 2021 / Incorporation 2021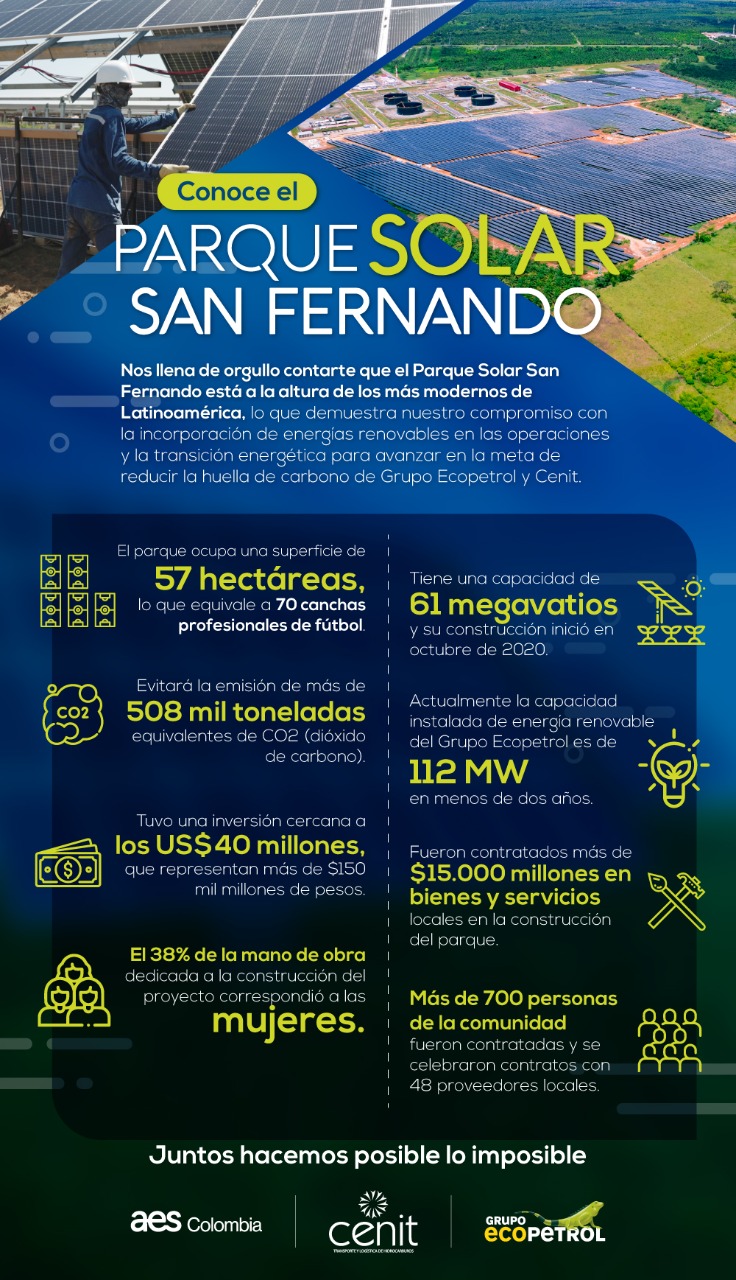 Get to know the San Fernando Solar Park
We are proud to tell you that the San Fernando Solar Park is among the most modern in Latin America, which demonstrates our commitment to the incorporation of renewable energy in operations and energy transition to advance the goal of reducing the carbon footprint of Ecopetrol Group and Cenit.
The park occupies an area of 57 hectares, which is equivalent to 70 professional soccer fields.
It has a capacity of 61 megawatts and construction began in October 2020.
It will prevent the emission of more than 508 thousand tons of CO2 (carbon dioxide) equivalent.
Currently, Ecopetrol Group's installed renewable energy capacity is 112 MW in less than two years.
It had an investment of close to US$ 40 million, which represents more than $150 billion pesos.
More than $15 billion in local goods and services were contracted in the construction of the park.
Women accounted for 38% of the labor force involved in the construction of the project.
More than 700 people from the community were hired and contracts were signed with 48 local suppliers.
Incorporación 2019 / Incorporation 2019


CASTILLA SOLAR FARM WILL DELIVER ENERGY TO CAMPO CASTILLA UNDER A SELF-GENERATION SCHEME
More than 54,000 solar panels transforming continuous energy into alternating energy.
Installed capacity 21 MWp
Will supply energy to Campo Castilla for 15 years
Will prevent the emission of more than 154,000 tons of CO2; equivalent to the planting of 16,200 trees.
18 hectares are equivalent to 16 professional soccer fields.
Generated 383 jobs. 29% were women