At Ecopetrol we have a Compensation Policy that ensures working conditions that encourage our workers to give the Company their maximum commitment and potential; aiming for the attraction and loyalty of the human resource required for the development of the strategy.
The main components of total compensation at Ecopetrol are:
Fixed Compensation: It provides monetary considerations for the performance of the functions associated with the position of each worker and is made up of salaries, legal and extralegal benefits.
Benefits: have the goal of contributing to the quality of life of our workers, and are mainly oriented to the areas of health, education, loans, savings, and insurance.
Variable compensation: Variable compensation is paid based on Company's results and individual performance, and serves to align employees with annual business objectives which are measured by the Balanced Score Card (TBG). This variable element of compensation is determined and assigned considering factors such as the result of financial and management indicators, HSE effects, environmental, ethical and disciplinary events, internal control failures, and individual performance of each of the employees.
CEO Compensation
In the CEOs case, variable compensation is directly related to the Company's Balanced Scorecard (TBG for its acronym in Spanish), which includes financial and non-financial metrics and indicators. Some of the financial return metrics considered include EBITDA, cash protection (cash flow), investment plan, and total unit cost.
During 2021, the Balanced Scorecard indicators were grouped into four main categories:
Life first (10%)
Financial competitiveness (45%)
Energy transition (30%):
Adaptation (15%):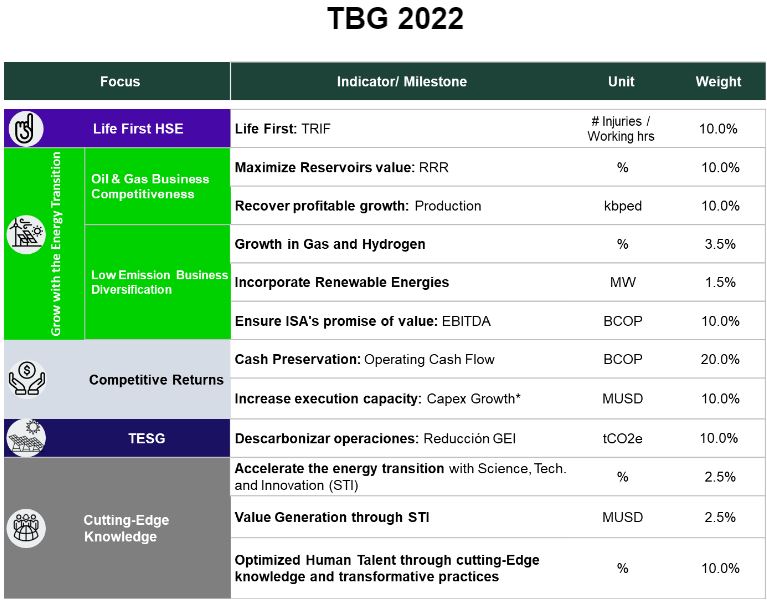 Payment of variable compensation for all employees is subject to the approval of the Board of Directors. It seeks to recognize and encourage the achievement of business results, all the while aligning individual efforts to achieve the common goal through the individual contribution of all employees.
The variable compensation for results is reviewed between January and April of the following year, once corporate results are published, and at the end of the evaluation process for individual performance for the previous period.
Long-term incentives: Long-Term Incentives (LTIs) are recognized to the CEO and other members of the management team based on long-term business results (three years) that guarantee the sustainability of the Company. Currently, two plans are running for the periods of 2020-2022 and 2021-2023.
The LTIs are determined based on strategic objectives linked to Ecopetrol´s sustainability, mainly cash flow generation, reserves replenishment and production, and energy transition focused on GHG reduction and diversification on low emission businesses."