To perform proper corporate responsibility, it is necessary to have permanent communication channels that contribute maintaining and improving the relationship with Stakeholders. Ecopetrol has mechanisms and channels to receive and adequately manage requests, complaints, claims, suggestions (PQRS), and congratulations presented by Stakeholders, ensuring a timely and thorough response.
Likewise, participation scenarios are generated by the Company to inform Stakeholders about the activities developed by the organization and to know their perceptions. All these, to build a close and long-lasting relationship between them and the organization.
The information from the PQRS and the participation scenarios allows Ecopetrol to identify improvement opportunities in the organization's processes and to build solution´s to situations of dissatisfaction.
This dialogue with Stakeholders at a national level becomes a reality in Ecopetrol through the Citizen Participation Office (OPC), guaranteeing the right of the interested parties to express their positions and concerns regarding the actions of the company, thus becoming a space of interrelation that strengthens citizen rights, ethical principles, and transparency in social relations, under the premise that citizen participation is an instrument of public policy to achieve the organized and equitable development of society.
Through management and monitoring of the requirements derived from such interaction between Ecopetrol and its Stakeholders, the data that is obtained is structured, analyzed, and converted into valuable information for improvement and decision making.
Also, dialogue scenarios to build trusting relationships with Communities, Local Authorities, Contractors, and Ecopetrol Group subsidiaries are the ideal spaces to recognize the other part, establish relationships inclusively and capitalize on the opportunity to prevent, transform, and constructively resolve conflicts. In addition, these spaces for dialogue allow a better coexistence between the parties, ensuring citizen participation, strengthening institutions, and contributing to the sustainable development of the territories.
By 2021, 349 strategic dialogue spaces were held, as part of Ecopetrol's actions to build trust and social bonding with the communities and other stakeholders. Below is a summary table of these spaces by region.
Region

Total
Dialogue Spaces

Central

120

Andean Transportation

116

South

44

Piedemonte

18

Caribbean

21

Orinoquía

12

East

11

Catatumbo - Arauca

7

Total

349
Source: Ecopetrol, Sustainable Development Vice-Presidency VDS, Regional Social Settings Management
Likewise, due to the realization of these spaces, we had contact with 41,603 people, being the community the main focus of these dialogue spaces. The following is a list of the amount of people per Stakeholders with whom activities were developed:
Number of people per stakeholders

Region

Community

Non-Governmental
Organizations (NGO)

business associations

Authorities

Contractors or subsidiaries

Total

Piedemonte

10,374

8,790

7,410

30

31,034

Central

9,018

24

31

131

166

9,370

Andean Transportation

1,788

11

10

170

58

2,037

East

1,503

0

0

0

0

1,503

South

842

42

18

135

213

1,250

Orinoquía

300

2

58

14

374

Caribbean

236

33

269

Catatumbo - Arauca

157

4

35

196

Total

24,218

8,869

7,473

592

451

41,603
Source: Ecopetrol, Sustainable Development Vice-Presidency VDS, Regional Social Settings Management
Most of these spaces were held within the framework of engagement initiatives in the different regions, a strategy that has allowed strengthening and expanding the scope of Ecopetrol's voluntary, preventive, and constructive engagement with its Stakeholders, especially with communities, business associations, and local authorities.
Spaces promoted by the Citizen Participation Office
The OPC promotes the development of intentional spaces for enhancing the relationships with Stakeholders, through which attention, democratic dialogue, accountability, and the strengthening of citizen competencies are encouraged by establishing synergies with different institutions and areas of the company.
In these scenarios, operational results and projections are disclosed, the management of relevant topics for the relationship is socialized, the needs and expectations of the Stakeholders are listened and knowledge about the industry, the company, and its management is given to the stakeholders. For this purpose, the Citizen Participation Office (OPC) structured the following Portfolio.
Portfolio Participation Scenarios OPC – 2021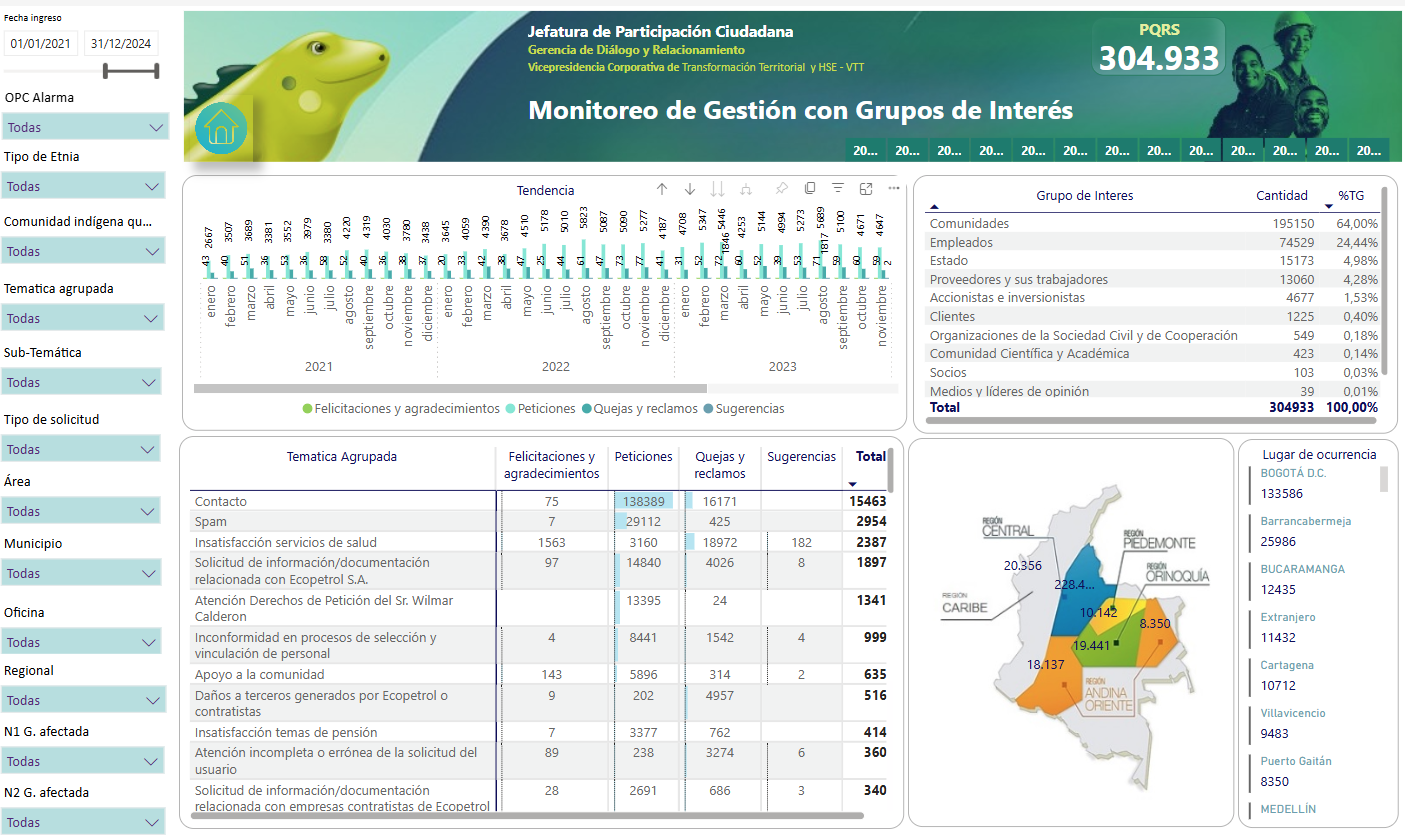 Source: Ecopetrol, Citizen Participation Office
Based on the Portfolio and considering the needs, particularities, and dynamics of each region, each year a strategic plan of participation scenarios is built, which must be aligned to Ecopetrol's Strategic Relations Strategy in the territories.
During 2021, although there were fewer activities due to the social isolation caused by the pandemic, events were held through digital tools provided by the company and others were done in person. In total, 152 participation spaces were held with 3,802 people, with the community being the main focus of these spaces.
In the past five years, 909 activities were carried out in all the Company's regions, with the participation of almost 25,000 people, as illustrated in the following table:
Participation scenarios by region - 2017 to 2021
2017

2018

2019

2020

2021

OPC by Region

Attendees

Events

Attendees

Events

Attendees

Events

Attendees

Events

Attendees

Events

Caribbean Pacific

5

92

535

41

1,374

22

266

7

485

14

Central

36

406

915

89

1,592

106

1,158

27

1,351

73

East

641

20

788

21

231

4

234

8

Orinoquia

9

2,456

2,752

78

3,692

133

462

31

1,182

25

Piedemonte

3

635

593

25

447

22

209

8

285

13

South

13

331

282

19

611

27

375

11

265

19

Total

66

3,920

5,718

272

8,504

331

2,701

88

3,802

152
Source: Ecopetrol, Citizen Participation Office
Participation scenarios - 2017 to 2021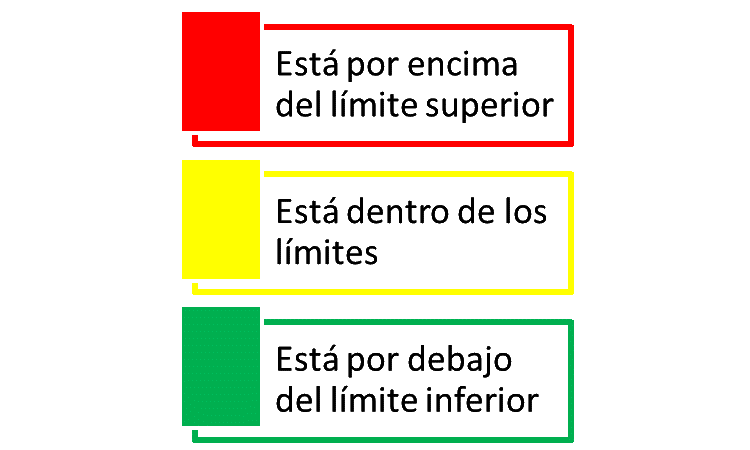 Source: Ecopetrol, Citizen Participation Office