Stakeholders
Investors: Generate a solid and trustworthy relationship with shareholders and investors through the timely delivery of reliable and quality information.
Society and community: Contribute to the growth of the economic value of Ecopetrol S.A. and the Business Group through the creation of sustainable development conditions that allow the consolidation of operations and viability of projects.
State: Contribute to accountability in the hydrocarbon sector and promote respect for human rights in all our activities and operations.
Suppliers, contractors and employees: Transparency and clear rules in a mutually beneficial relationship.
Employees, pensioners and their beneficiaries: Add value through Human Talent Management, quality of life and well-being of people.
Clients: We build trusting and long-term relationships with our clients to become an ally for their business.
Associates and partners: To ensure sustainable joint business within a framework of transparent, reliable, efficient and mutually beneficial relationships.
Stakeholders and subgroups
In line with the ISO 26000 Standard, stakeholder management establishes the guidelines to promote Ecopetrol's responsible business management with each of its seven stakeholders.
Ecopetrol's seven stakeholder groups, updated to 2020, are:
Investors (ACC)
Associates and partners (ASO)
Customers (CLI)
Employees, retirees and their beneficiaries (EMP)
State (EST)
Suppliers Contractors and their employees (PRO)
Society and community (SC)
Subgroups
Associates and Partners

Associates - Production Partners with active participation
Associates - Production Partners with marginal participation
Exploration Partners - Operated Contracts
Exploration Partners - Non-Operated Contracts

Investors

Shareholders, Individuals
Investors
Analysts
Risk Rating Agencies

Customers

Crude oil customers
Fuel customers
Petrochemical and industrial customers
Natural gas and LPG customers

Suppliers, contractors and their employees

Strategic suppliers
Core suppliers
Leverage suppliers
Routine suppliers
Contractor employees
Suppliers of crude oil, products, petrochemicals and industrials

Employees, retirees and their beneficiaries

Employees
Union organizations
Pensioners
Beneficiaries

State

Executive
Legislative
Judiciary
Control bodies
Ombudsman's Office

Society and Community

Society

Non-governmental organizations - NGOs
Associations and associations
Scientific and academic community
Voluntary organizations

Community

Community Action Boards
Asojuntas and Asocomunal
Community leaders and/or social leaders
Civil Society Organizations
Citizen Oversight
Ethnic communities
COMMITMENT MANAGEMENT
Ecopetrol's relationship with its stakeholders seeks to build trust and mutual benefit that leverage the achievement of business objectives, contribute to the sustainable development of Stakeholders, and enable the sustainability of the business. Derived from this relationship and within the framework of the different participation scenarios, it is usual that commitments are established between Ecopetrol and its Stakeholders, whose compliance strengthens the construction of long-term relationships.
This process consists of ensuring compliance with the commitments derived from Ecopetrol's interaction with its Stakeholders. This involves the registration, control, and closure of the commitments established in the management of PQRS as well as those agreed in relationship scenarios. This commitment management is regulated in the Procedure for the commitment management with Stakeholders and the Instructions for the Commitment Management with Society, Community, and State.
It is measured with the Engagement Management indicator, whose cumulative result for 2021 is 99.95% and whose evolution over the last 5 years is as follows:
Performance of the commitment management system - 2017 to 2021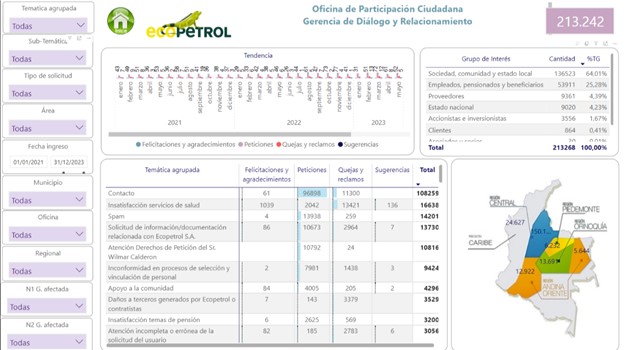 Source: Ecopetrol, Citizen Participation Office
STAKEHOLDER MANAGEMENT MONITORING
A monthly monitoring report is issued at a national level and bimonthly 6 monitoring reports are generated in the Bogotá, Caribbean Pacific, Central, East, Andean, Orinoquía, and Piedemonte regions, which are shared electronically with senior management, management professionals from all areas of the company and other leaders and professionals related to the Stakeholder Strategic Relations Management, which currently has a population of over 200 employees.
These reports allow Ecopetrol to identify social alerts, deviations in processes, expectations, and non-conformities of Stakeholders and, in general, situations that may affect the relationship with the society. They are published in the OPC's Sharepoint site on the corporate intranet, for a free consultation by company employees. Throughout 2021, 12 national reports and 36 regional reports were published.
All data is taken from the PQRS management tool (Salesforce) and its processed and analyzed through Excel and PowerBI. Visualization of the information is done in PowerPoint presentations, ArcGIS, and PowerBI dashboards in real-time.
National PQRS monitoring dashboard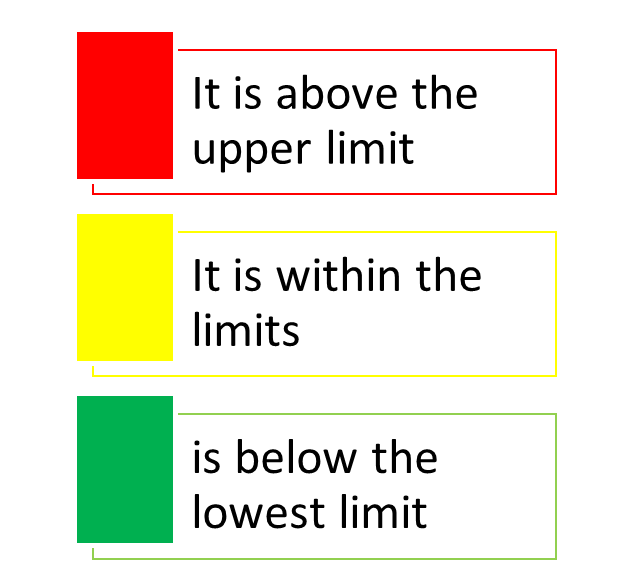 Source: Ecopetrol, Citizen Participation Office
This analysis tool shows stakeholder's perceptions regarding the relationship with the company; information that can be viewed from different variables such as the stakeholder, the regional, the type of request, the areas they manage, and the relevant topics. We currently have a little more than 115 groups of topics and a total of 1,333 individual topics, which help to identify with greater clarity and precision the processes, products, or services that are perceived negatively by stakeholders.
The analysis of the complaints and dissatisfactions presented in the last five years, reflected in the monitoring reports, shows that the stakeholders that accumulate more dissatisfactions are Community and Society, Employees, Retirees, and their beneficiaries and Suppliers; while the region that concentrates the highest number of PQRS is the Central region. The following graphs illustrate this behavior:
PQRS behavior by stakeholders - 2016 to 2021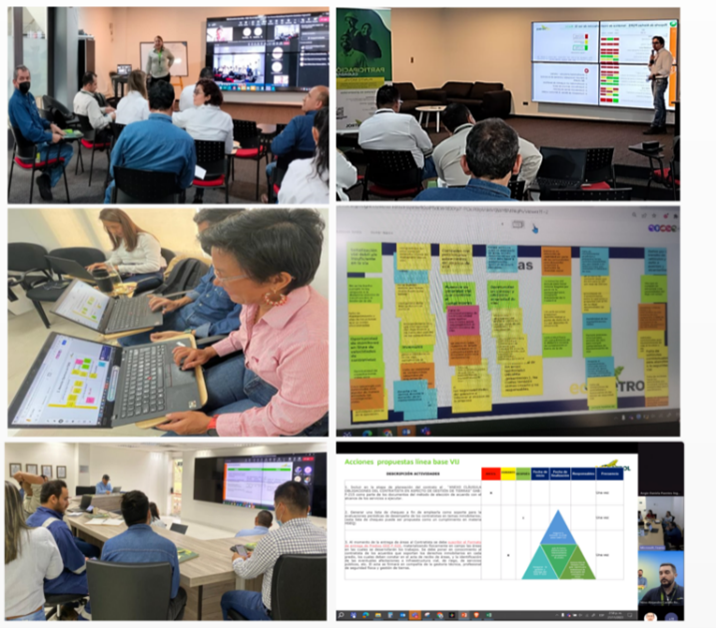 Source: Ecopetrol, Citizen Participation Office
PQRS behavior by region - 2016 to 2021
Source: Ecopetrol, Citizen Participation Office
In addition to the reports, a monthly Stakeholder Dissatisfaction Alert Report is made to alert the organization about the behavior of those issues that represent risks, seeking that such dissatisfactions tend to zero, by identifying its root cause and establishing improvement or mitigation plans. It is reported using the following traffic light:
By grouping the 22 topics that are currently being monitored, it is possible to analyze the behavior of approximately 80% of all complaints. This allows to identify whether dissatisfaction
with a group of topics is increasing or decreasing, as a starting point for analyzing the causes of deviations, allowing the company to structure and deploy plans that solve the root cause of the problem.
This monitoring exercise has helped to detect opportunities for improvement in the organization's processes, products, and services, which are reflected in action plans defined and executed by the responsible areas, searching for a solution to the causes that lead to the problems detected. Since 2016, improvement plans have been created for different topics, among which the following stand out: Dissatisfaction with health services, alleged non-compliance with civil and labor obligations of contractors and damages to third parties generated by Ecopetrol or contractors.
ACCOUNTABILITY
Besides the traditional accountability mechanisms established by law, Ecopetrol has additional channels, specialized events and written reports that reaffirm their commitment with the transparency of the information. These actions make Ecopetrol one of the leading companies in Colombia regarding accountability to its Stakeholders.
Any citizen who seeks to communicate with Ecopetrol from anywhere in the world or request information about its management, can do so in a fluid and permanent manner through the established mechanisms that guarantee transparency and access to information. Some of them are:
Shareholders general meeting. This assembly is held annually, and its objective is to inform the shareholders about the results of the previous year and take the corresponding decisions.
Participation spaces. Events focused on specific topics and places, which are methodologically oriented by the Citizen Participation Office (OPC).
Ecopetrol web page. It contains updated information on the company´s operations and results, as well as relevant information for each Stakeholder.
Integrated Sustainability Report. This document is published annually and includes general information of the company, its value chain and its operating processes, financial results, share performance, risk management and, in general Ecopetrol´s management in its economic, social, and environmental aspects.
Information requests. All citizens can access company information through information requests, which are addressed within the terms provided in the law that regulates the right of petition.
ENVIRONMENTAL CLAIMS
Throughout 2021, the company dealt with 435 claims. These were about alleged environmental impacts generated by Ecopetrol or its contractors in the development of its industrial and commercial activities, the details of these claims can be consulted through the Citizen Participation Office OPC.
| | |
| --- | --- |
| Related Topic | Number of claims |
| Affectations to bodies of water | 124 |
| Crops and vegetation | 104 |
| Property damage | 113 |
| Atmospheric emissions | 3 |
| Management of chemical substances and chemical waste | 33 |
| Smells | 13 |
| Noise | 44 |
| Total | 435 |
Source: Ecopetrol, Citizen Participation Office
Regarding the validity of these claims, 58% are reported valid, which corresponded to acts for which Ecopetrol had to generate remedies:
| | |
| --- | --- |
| Claim validity | Number of claims |
| Valid claim | 252 |
| Not valid claim | 148 |
| Transferred claim | 24 |
| Total | 435 |
Source: Ecopetrol, Citizen Participation Office
LABOR PRACTICES AND DISCRIMINATION COMPLAINTS
During 2021 Ecopetrol did not receive claims about Labor practices or Discrimination from their direct employees. 15 claims were received from contractor employees, for which Ecopetrol notified each of the corresponding companies as employers and therefore responsible for guaranteeing adequate working conditions for their workers.
From the 15 claims of contractor companies, 14 were related with Labor practices (Feeding, transport, and accommodation) and one was related with Discrimination (Female recruitment).