The aim of the general environment management strategy is to contribute to the creation of shared prosperity conditions that support the viability of the projects and the consolidation of operations, thus ensuring the growth of Ecopetrol and the Group's economic value. Its specific goals are:

This strategy establishes four strategic axes: Environmental Management, Physical Security, Engagement and Social Investment. These axes are aligned with the Sustainable Development Goals (SDGs) and the National Development Plan.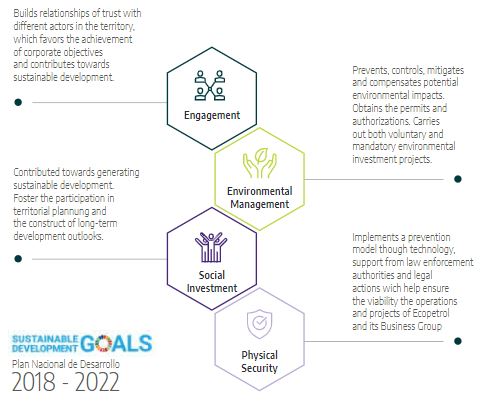 Corporate sustainability is a business approach focused on generating value for shareholders and other stakeholders, through the use of opportunities and adequately managing risks stemming from economic, environmental and social changes. Being sustainable means including a set of economic, social and environmental criteria within corporate management, which determine a company´s ability to generate long-term value and respond effectively to global challenges.