With more than 50,000 registered species and nearly 31 million hectares protected, equivalent to 15% of the national territory, our country ranks second worldwide in biodiversity. The following information and figures; have been consolidated based on taxonomic reclassifications and reports from the Von Humboldt Institute:
Colombia is a country recognized as a megadiverse territory where complexity, fragility and biological diversity are interwoven with a history and a dynamic and complex social, economic and political present, which influence ecosystems to confront at least 5 major drivers of loss to biodiversity, which are described below (Center for Sustainable Development Goals for Latin America, 2019):
Land use change: It consists of the transformation of natural ecosystems by agriculture, deforestation and urbanization. 40% of the country's surface has undergone a severe transformation.
Direct overexploitation of species: It is the depletion of wild fauna and flora that is used as a natural resource, in fisheries, forest use, and gathering of wild products.li>
Biological invasions: They are produced by the introduction of wild or domesticated species in spaces outside their original distribution. They produce devastating effects on islands and fragile ecosystems, and threaten to homogenize the world's flora and fauna.
Water and soil contamination: occurs due to the dumping of polluting substances or that alter the natural conditions of ecosystems; can generate local and regional impacts on biodiversity, and that if not stopped would contribute to the global collapse of populations and species.
Climate change:the stresses of climate on ecological systems are already observed, with the change in the distribution or integrity of populations of fauna and flora. If it continues, climate change could become the main driver of biodiversity loss, since it affects the other direct drivers.
In order to minimize these impacts, the company carries out biodiversity and ecosystem service management processes aimed at generating the least amount and magnitude of residual impacts, based on the implementation of the mitigation hierarchy.
Mitigation hierarchy (Source: Practical Guide to Ecological Restoration, 2018, Biodiversity Foundation, of the Ministry for Ecological Transition, Spain).
This hierarchy refers to the sequence of measures designed to manage the negative impacts of a project, work or activities, in search of a non-net loss of biodiversity and must be applied for decision-making in its planning and design.
Ecopetrol's Biodiversity Strategy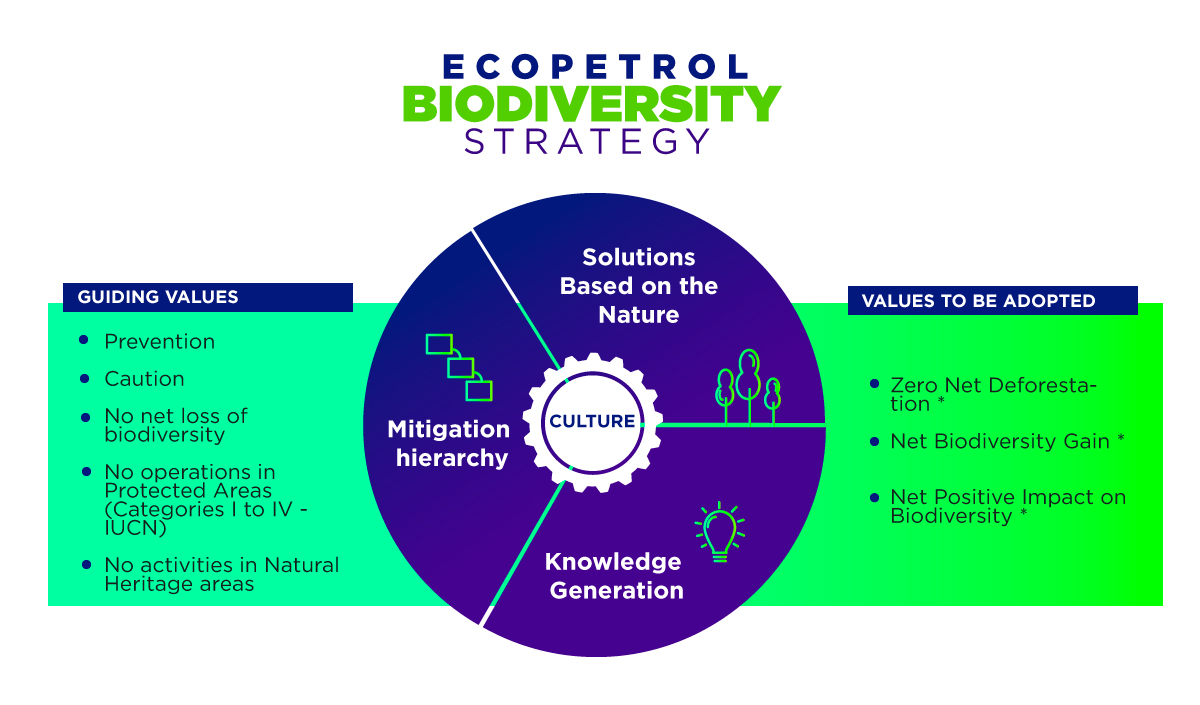 With the adoption of the biodiversity strategy from Ecopetrol we seek to generate a positive impact, meet stakeholder expectations, avoid redesign costs and project delays, maintain the license to operate and gain access to new business opportunities, through the management of biodiversity and ecosystem services. Our strategy is based on four axes:
Prevention and mitigation of impacts on biodiversity
Ecopetrol S.A. declares that it does not have, nor does it plan to intervene with exploration, production or refining activities in areas of great value for biodiversity classified according to the International Union for Conservation of Nature-IUCN in categories I to IV, consolidated in Figure 3.
Similarly, Ecopetrol does not have projects or operations in areas declared a World Heritage Site by UNESCO, nor does it plan to intervene in these types of areas.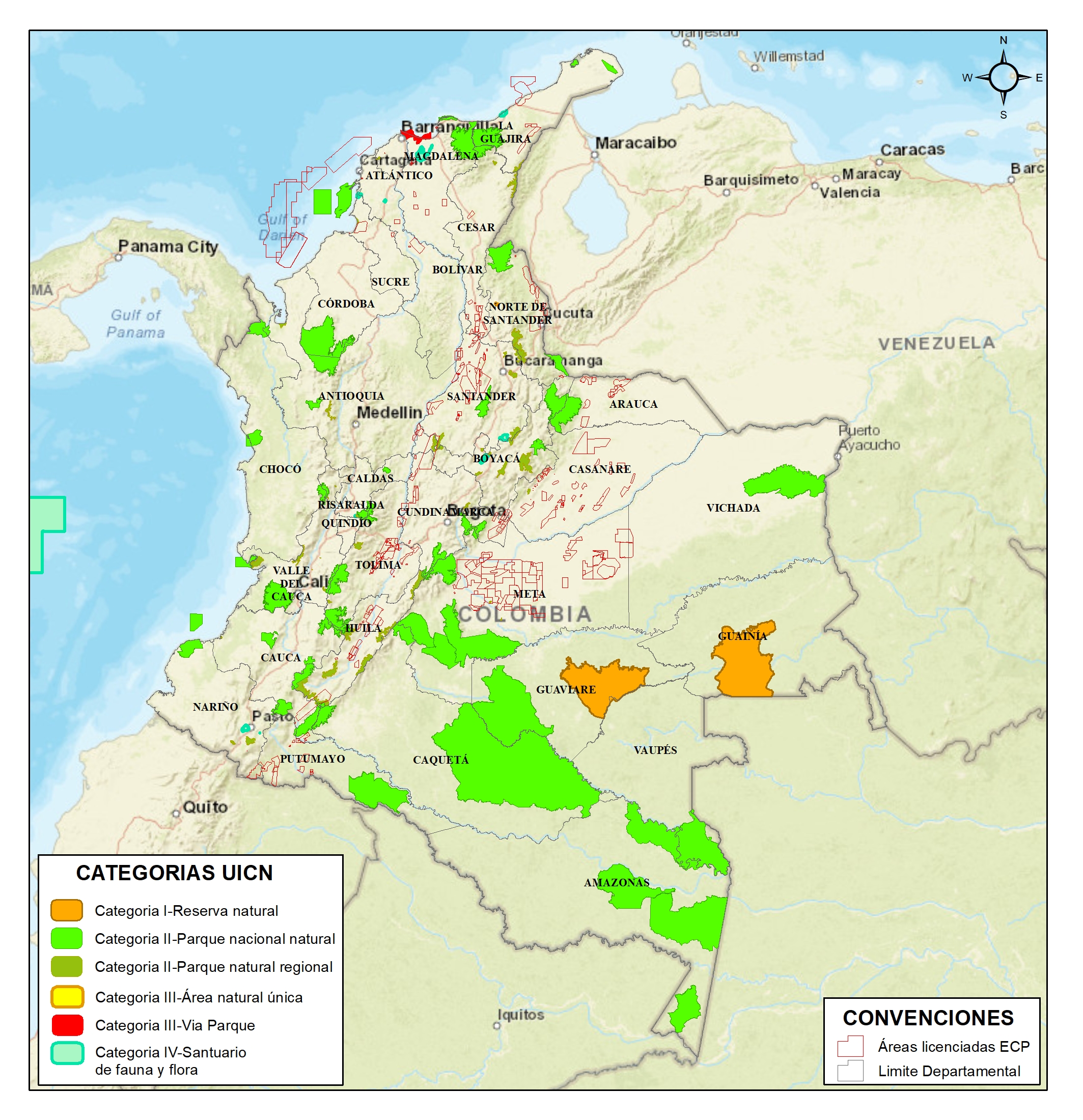 Areas of great value for biodiversity, categories according to IUCN categories I to IV.
World Heritage Areas and Ecopetrol operations. (Source: Ecopetrol, Environmental Management and Relationship)
Biodiversity management results