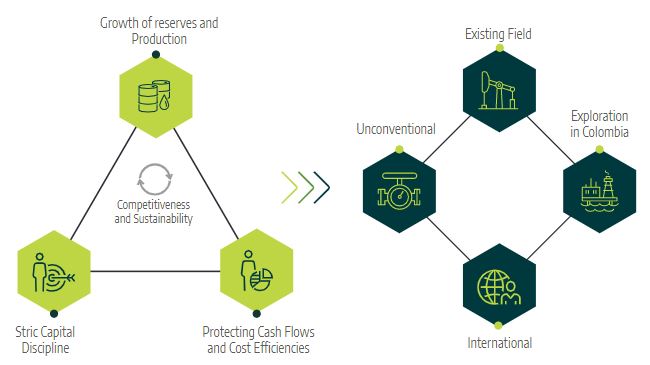 In the search to fulfill these premises, a plan has been designed that seeks actions in the Upstream segment aligned with growth and diversification, aimed towards increasing the average life of the reserves and ensuring a sustainable segment. This work entails addressing four fronts:
Existing fields.
Exploration in Colombia.
Unconventional deposits.
Internationalization and active development of M&A activities.
For the Downstream segment, the Refining Development Program (PDR for its Spanish acronym) has been built, targeting opportunities in fuel quality progress at the Barrancabermeja Refinery; capturing value by optimizing current assets at the Cartagena Refinery; seeking to increase throughput capacity through the interconnection of crude plants; and the maximization of synergies between refineries.
For the Midstream segment, the implementation of operational efficiencies in pipelines and polyducts has been established as a focal point thereof, as well as the capture of opportunities derived from the growth in fuel demand and the integrated management of the business chain, strengthening logistics.
The role of business enablers is of great importance for the proposed objectives, highlighting, among others, the relevance of digital transformation, commercial management aimed at optimizing the crude basket, the development of the market for gas and refined products, human talent management and the supply of products and services for projects and business operations.
In relation to the challenges and opportunities presented by the energy transition, the strategy has focused on developing plans that seek long-term sustainability, working on the following action lines:
Finally, it is worth noting that the business strategy emphasizes ESG issues and Corporate Responsibility in order to fully compliance with the UN Sustainable Development Goals and the Respect for Human Rights, as well as to comply with all corporate guidelines in terms of Ethics and Compliance that greatly impact reputation, among others.